Why Bullies Target The Disabled & How To Fight Back
On the heels of the unthinkable cyberbullying case in Florida where 12-year-old Rebecca Sedwick jumped to her death after more than a year of psychological assault last year, another horrendous case of cyberbullying surfaced in Plano TX. Thankfully, so has an arrest, which according to police met the criteria of the crime of harassment on behalf of someone who was once a family friend.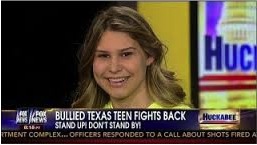 Shea Shawhan, a 17-year-old junior at West Senior High School, suffered a severe brain injury at birth, leaving her with a diminished mental capacity and prone to seizures.
Despite her disability, she's a cheerleader and plays on the softball team. Yet starting about 10 months ago, she began receiving vicious text messages threatening violence, rape and murder from undisclosed phone numbers generated by web applications, even after changing her number.
One says: "Shea should just have one of her f****** seizures and die because people at west don't want her. That's the reason she has seizures, because that's karma for giving birth to a freaky slut."
Another: "Shea is so annoying but cute I want to do more than just kiss her I want to rape her then kill her. That will finally make sure she goes away for good."
People of goodwill quickly had her back, including Glenn Beck and Mike Huckabee. The Dallas Mavericks invited her to be their special guest for a preseason game. She even posed with the team's cheerleaders.
Sadly, special needs children are among the most bullied in any youth gathering [this can include church gatherings], and the late philosopher Henri Nouwen provides one of the deepest answers why. A former professor at Notre Dame, Yale and Harvard later worked at the L'Arche community of Daybreak in Toronto, working with developmentally disabled persons.
During one lecture, Nouwen's main topic was the definition of what it means to be human. He said anthropologists and evolutionary psychologists provide the following traits: self-awareness, speech and symbolic cognition, and the capacity to imagine, among other traits purely cognitive traits.
These, he noted, were all mind-centered, which academia and popular thinking believe is the centerpiece of what it means to be human.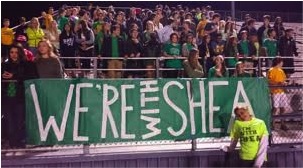 Then he dropped a bombshell, the same one that causes so much psychological and physical assault to souls like Shea: If the mind is primary or even exclusively what makes us human, what about those who are mind deficient? Are they fully human, worthy of respect and possessors of dignity?
Our unofficial and shameful answer, especially within a youth culture where unkindness, meanness and cruelty are perverse forms of currency, is no. Of course few are forthright enough to say this out loud—but we do through our actions, as this and countless other stories of bullied mentally and physically challenged people reveals.
Shea, to a malevolent minority, is a child of a lesser god, unworthy of respect but deserving of contempt, hatred, disdain and assault.
Thankfully, courage and character came to Shea's rescue. Her new Facebook page, I'mWithShea, has nearly 86K likes of solidarity. Bystanders have become what The Protectors calls "Alongside Standers." Classmates and entire families wear lime-green t-shirts that read, "I've Got Shea's Back." The assault ended before the arrest, reminding us that bullies back down when confronted by positive peer pressure.
But we need more than positive peer pressure if we are to leverage a comprehensive, community-wide solution, the only kind proven to work. The identity of hard-core bullies, including Shea's, should be revealed so employers, who pay a high price for hiring such malicious people, can also defend themselves from the high cost of low behavior. Serial bullies do not listen much to peace, love and understanding. They listen to consequences, "What's in it for me to change?" This is their love language so to speak, so authoritative communities need to start speaking it, sooner than later.
Parts of England are already denying employment to serial bullies. Universities in South Korea deny serial bullies admittance. So should we.
My friend Gary has Down Syndrome, and has shown me a side of human possibility, what some call glory, which is hard to spot in the common life. His exuberance is beautiful and clarifying. I wish I had his Carroll Burnett-like comedic timing and the same acumen imitating Elvis. He is exceedingly kind and is in an oracle of unvarnished love. He comes from love, and love he breathes to others.
And he's fortunate. He's surrounded by protectors, people quick to defend him against malevolent forces. Sadly, he's a minority within a beleaguered community that desperately need more protectors, people with the wisdom, courage and passion who turn awareness about bullying into effective action against it.
Gary is fully human because deep within the blacksmith of his soul is that divine and cosmic spark that imbues all of us with immeasurable value, which on one hand is as hard to measure as the the firmament above, yet on the other is as confirming as look of joy in the corner of his eye.
There are no children of a lesser, lower-case god, just a minority of low-character bullies who assault until confronted by people of goodwill. Thank you Plano for showing us how.
Paul Coughlin is an expert witness regarding bullying and the law, a FoxNews contributor, a former newspaper editor and is the author of numerous books, including Raising Bully-Proof Kids. He is the Founder of The Protectors: Freedom From Bullying—Courage, Character & Leadership for Life, which provides a comprehensive and community-wide solution to adolescent bullying in schools, summer camps, faith-based organizations, and other places where bullying can be prevalent.
Leave a Comment