Resources that Educate, Prevent & Rehabilitate
Education and Prevention
The Protectors has the right resources for you to bring hope and healing from this intentional and repeated form of abuse, including information on non-traditional forms of education.
The Protector's Anti-Bullying Curriculum
The Protectors offer both a Faith-Based Curriculum designed for faith based organizations, such as private schools and summer camps, and a Values-Based Curriculum designed for public schools, grades 3-12.
For more information on our Faith-Based Program, visit our Faith-Based Program page. To purchase this curriculum visit our Protectors Shop.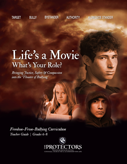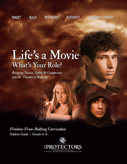 For more information on our Public School Program visit our Public School Program page. To purchase this curriculum visit our Protectors Shop.
 The 'Hero in You' DVD Anti-Bullying Program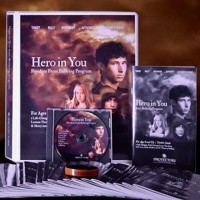 This interactive, powerful and life-changing program will take your faith-based organization on an incredible journey of love, mercy, justice, compassion and courage like no other program. This program is perfect for youth groups and small gatherings.
To read more about this program visit our Hero in You Program page. To purchase this DVD set visit our Protectors Shop.
4-Circle Defense Against Bullying Parent Guide
"My child is being bullied. Please help!"
This is the #1 request we receive at The Protectors, so we've created a comprehensive solution for parents, grandparents, guardians and others who provide regular care to children. This guide is designed to be consumed quickly and effectively—exactly what people in great need require.
To purchase, please visit our Protectors Shop.
Stop Cyberbullying Mobile App

This innovative and user-friendly mobile app empowers kids, schools and parents to fight cyberbullying with a few clicks of their smartphones. Available in an individual version and a school version, kids can anonymously report instances of cyberbullying, and schools can manage incident reports in real-time and track response efforts. With smartphones being the #1 tool used for harassment, STOPit provides an excellent solution to this devastating problem.
For more information or to enroll your school, visit stopitsolutions.com/stopit-solutions-education. Let our friends over at STOPit know we sent you by including on your Request for Information the following:  The Protector US002N
Non-Traditional Education
For some, leaving traditional education and utilizing other sources is their only viable option for helping their child escape bullying. The following are options that might work well for you and your loved ones.
Charter Schools. Learn more.
Online Schooling, including Home Schooling. Learn more. Also see Khan Academy
Children with learning disabilities are among the most targeted in any school. Click here to learn more about your rights as students and parents.
Life After Bullying
Though numerous people survive their bullying years, many struggle as adults with anger, resentment, anxiety, depression, and other negative emotions. That is why we have created a resource library that will help you, your child or grandchild become healthy adults. For more information, please click here.