Books by Paul Coughlin
NO MORE CHRISTIAN NICE GUY
When Being Nice—Instead of "Good"—Hurts Men, Women and Children
In this ground-breaking book with a timeless message to men and also women, Paul Coughlin explains why being a "nice guy" is disastrous to everyone involved. Instead, Paul shows how the abundant life that God has for us is found through a more assertive orientation toward life, growing faith, saving marriage, bolstering careers, and in some cases even saving life itself.
"Paul Coughlin is challenging our thinking on what it means to be God's man in the 21st Century. The Apostle Paul pens in 1 Corinthians 16:13, "act like men." That begs the question, What is a man? Coughlin is asking that question. This book is his excellent answer." — Rev. Emerson Eggerichs Ph.D. author of Love and Respect: the Love She Most Desires and the Respect he Desperately Needs
"John Eldredge gave men permission to be "wild at heart." Paul Coughlin shows us how to do it. This book is a road map to a larger life." — David Murrow, author of Why Men Hate Going to Church
"Paul has bold, powerful, and even shocking words for the church–especially regarding God's celebration of sexual passion. If the church wants to get a handle on rampant divorce and infidelity, Paul has some words of wisdom we dare not ignore." — Dave Meurer, author of Good Spousekeeping: A His and Hers Guide to Couplehood
Price: $15
NO MORE CHRISTIAN NICE GUY STUDY GUIDE
Your Personal Battle Plan for the Good Guy Rebellion
It's true; nice guys aren't always nice. This Study Guide dives deeper into the Nice Guy problem, helping you discover the true biblical model of
manhood. Each chapter contains several exercises to help you move from passivity to assertiveness, plus a bevy of bonus information, including additional help for single Christian Nice Guys, which provides insights into the Christian Nice Guy problem not found in No More Christian Nice Guy. So join the Good Guy Rebellion and start living your life as a Christian Good Guy.Suggestions for small-group leaders make this suitable for use in groups or on your own.
Price: $10
RAISING BULLY-PROOF KIDS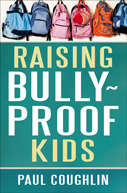 Raise Assertive, Confident and Strong Children
This ground-breaking book in the field of parenting explains how with the best of intentions an alarming number of parents are raising fragile, passive and even narcissistic children due to over-parenting, creating prime candidates for bullying throughout their school years. Here Coughlin explains how to raise assertive, confident and strong children who grow in courage, character and leadership, among other life-affirming qualities"Our job as parents is to raise responsible adults who have courage and character. Paul Coughlin's wonderful book will equip you for this amazing journey of parenting. It's a life-changing book." — Jim Burns, Ph.D., President, HomeWord, author of Confident Parenting
5 SECRETS GREAT DADS KNOW
Inspiration and Practical Help for Dads
Courage. Assertiveness. Love for God. Protecting kids from bullying.
These are some of the traits of great dads. In this accessible quick read, Coughlin draws on his experience as a dad, soccer coach, and leading voice in men's ministries to equip men to be the dads their kids need.
He challenges men to unleash their God-given potential to raise strong sons and daughters. The perfect gift for Dad when a greeting card isn't enough.
Price: $4
NO MORE CHRISTIAN NICE GIRL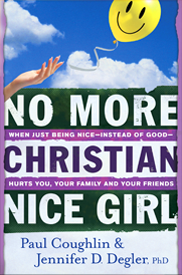 Be the Strong, Confident, and Caring Woman You Were Meant to Be