Freedom from Bullying – Courage, Character, and Leadership for Life
Wednesday, September 4 from 6 to 7:30 p.m.
White's Chapel Sanctuary
Guest Speaker – Paul Coughlin, Founder and President of The Protectors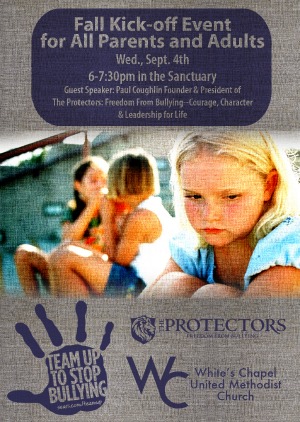 Bullying is now the leading concern among parents and students—surpassing illicit sexual activity, drug use and gang activity (Harris Poll 2011). This innovative, peace-making and practical presentation will help you diminish the cruelty of adolescent bullying, and in the process grow courage, character and leadership for life.
Throughout history, the church has been the tip of the spear defending human dignity in and outside the church, which is a gift from God that He calls us to defend. This often misunderstood and growing form of abuse is not the result of conflict or related issues. It's the use of superior power to intentionally harm another over a period of time, and the result is heartbreaking.
This intentional form of abuse hinders students from fulfilling their goals and mission. This presentation will give you practical, effective and powerful ways to combat this growing problem, making your community an oasis of hope, safety and learning.
You'll learn:
• How bullying tells children the lie that they are worthless and unloved.
• The many dangerous myths that surround this intentional form of abuse that hinders you from creating peace, justice and fairness for all.
• Why Bystanders possess the most potential power to transform this problem and how to help them become allies in this battle for fairness and dignity.
• How this training helps you do more than diminish bullying—it grows courage, character, faith and leadership for life.
Through Paul's presentation you'll become:
• A beacon of hope, love and justice.
• A true peacemaker, whom God longs to bless.
• Stronger and more mature in your faith.
• A leader in your community and a powerful witness to God's goodness and righteousness.
Paul Coughlin has more than 15 years of coaching experience, including his current position as a boy's varsity soccer coach where he was voted Coach of the Year twice. He is a father of three and is a member of the Board of Trustees for St. Mary's School in Medford, Oregon. He is a best-selling author of eight books, including the freedom-from-bullying parent and teacher resource, Raising Bullyproof Kids. He is an international speaker who has appeared on Good Morning America, Nightline, C-SPAN, Newsweek, New York Times, and The LA Times among other media outlets. His anti-bullying curriculum is used throughout North America as well as in South Africa, Uganda, Australia, New Zealand and Brazil among other countries. Paul is also a popular men's conference speaker who has inspired thousands across North American as well as in Wales, England and other countries.