Home
»
Resources that Educate, Prevent & Rehabilitate
Resources that Educate, Prevent & Rehabilitate
Education and Prevention
The Protectors has the right resources for you to bring hope and healing from this intentional and repeated form of abuse, including information on non-traditional forms of education.
The Protector's Anti-Bullying Curriculum
The Protector's Faith-Based Curriculum is designed for Private Schools, Sunday Schools, Summer Camps and Youth Groups
GROUP PRICE: $249 (Includes 1 Teacher's Guide and 10 Student Guides)
INDIVIDUAL INSTRUCTION PRICE: $149 (Includes 1 Teacher's Guide and 1 Student's Guide)
The Protector's Values-Based Curriculum is designed for Public Schools, Grades 3-12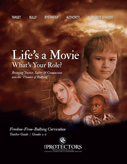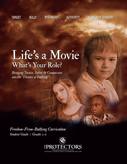 3-5TH GRADE CURRICULUM: $189
(Includes 1 Teacher's Guide and 10 Student Guides)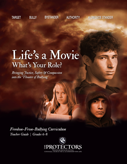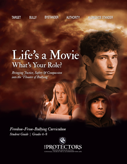 6-8TH GRADE CURRICULUM: $189
(Includes 1 Teacher's Guide and 10 Student Guides)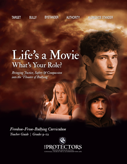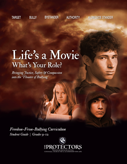 9-12TH GRADE CURRICULUM: $189
(Includes 1 Teacher's Guide and 10 Student Guides)
The 'Hero in You' DVD Anti-Bullying Program Available Spring 2013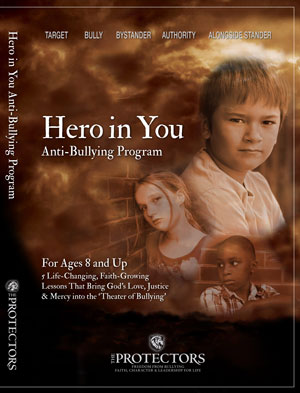 Bullying, which has become the #1 concern among many parents and children, actively opposes your faith-based organizations's mission and purpose: to bring your children into a deeper relationship with God. This is because bullying spreads pervasive fear, not just among Targets but Bystanders as well.
This interactive, powerful and life-changing program will take your faith-based organization on an incredible journey of love, mercy, justice, compassion and courage like no other program.
THE 'HERO IN YOU' DVD IS FOR AGES 8 AND UP AND INCLUDES THE FOLLOWING:
INTRODUCTION: Welcome to Love, Mercy, Justice and Righteousness
LESSON 1: Myths that Stop the Hero in You
LESSON 2: Freedom & Fairness for Targets
LESSON 3: Bullies: Leadership in the Wrong Direction
LESSON 4: Yes to God: Becoming a Heroic 'Alongside Stander'
To pre-order the "Hero in You" DVD click here and complete the form.
The Justice Begins on the Playground Anti-bullying Seminar
The Protectors is partnering with Saddleback Church's Justice and Trafficking Initiative and Men's Ministry to bring together the church and community in one of the most powerful justice-building programs yet. Recently they joined together to offer a free training to the public, including both private and public school teachers, administrators, coaches, counselors, youth ministers, law enforcement, mental health professionals, advocates for the physically and mentally challenged, parents, grandparents and many other youth leaders and organizations.
You can view this webcast in its entirety by clicking here.
Friendship Fixer® For the Younger Grades (Below 3rd Grade)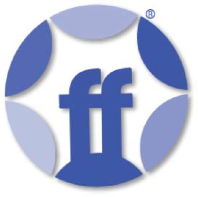 The Protectors often receives requests for help with grades younger than our intended audience (grades 3-12). So to better help our customers, we are glad to announce our partnership with Friendship Fixer.
Why Friendship Fixer? Because studies show that the #1 deterrent to becoming a Target of bullying is creating and maintaining at least one friendship. Friendship Fixer gives your kids the tools they need to build healthy relationships, and in the process reduce bullying across the board. Designed for preschool through 4th grade, Friendship Fixer reaches an age group that we currently do not reach. And it cultivates the right kind of thinking that will help The Protectors program take root within your organization. The Protectors and Friendship Fixer are links in a chain for pro-social behavior, safer schools, and the diminishment of bullying.
Raising Bully-Proof Kids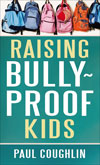 This ground-breaking book in the field of parenting explains how with the best of intentions an alarming number of parents are raising fragile, passive and even narcissistic children due to over-parenting, creating prime candidates for bullying throughout their school years. Here Coughlin explains how to raise assertive, confident and strong children who grow in courage, character and leadership, among other life-affirming qualities.
Our job as parents is to raise responsible adults who have courage and character. Paul Coughlin's wonderful book will equip you for this amazing journey of parenting. It's a life-changing book.  —
Jim Burns, Ph.D., President, HomeWord, a
uthor of
Confident Parenting
Price: $9.99
Non-Traditional Education
For some, leaving traditional education and utilizing other sources is their only viable option for helping their child escape bullying. The following are options that might work well for you and your loved ones.
Charter Schools. Learn more.
Online Schooling, including Home Schooling. Learn more. Also see Khan Academy
Children with learning disabilities are among the most targeted in any school. Click here to learn more about your rights as students and parents.
Life After Bullying
Though numerous people survive their bullying years, many struggle as adults with anger, resentment, anxiety, depression, and other negative emotions. That is why we have created a resource library that will help you, your child or grandchild become healthy adults. For more information, please click here.